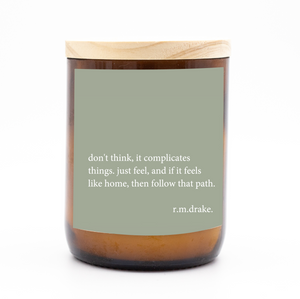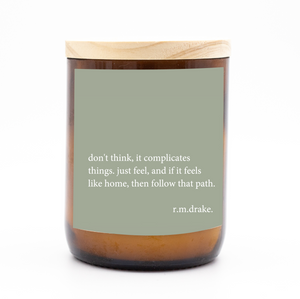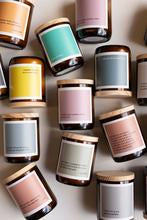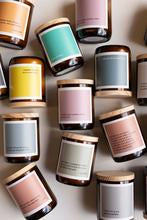 On Sale
"DON'T THINK JUST FEEL" SOY CANDLE 260G
These Heartfelt quote candles are straight from the heart!
"don't think. It complicates things. just feel, and if it feels like home, then follow that path"
S C E N T : M A L I - Blends coconut and lime sublime, take me for cocktails on the beach, with a summer breeze and palm trees.
Australian made, free from any nasties and vegan friendly & hand poured into a midsized Amber Jar that are made from recycled bottles matched with a custom raw wooden lid.

They use an eco-friendly, non-toxic cotton wick to help you create your calming rituals.
The Commonfolk Collective Candles have 260g of creamy, pure and renewable soy + candle wax, blended with our own Australian made fine fragrances oils and enriched with essentials oils. 
Enjoy 40 hours of bliss.