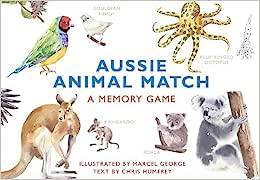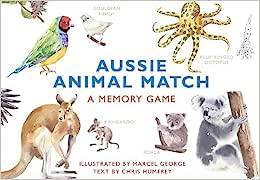 On Sale
AUSSIE ANIMAL MATCH MEMORY GAME
These adorable Aussie animals are missing their mums and dads! Remember where they're hiding and reunite them to win this fun family matching game.
Once you've put together all the pairs, learn about all the fascinating creatures you've collected in the accompanying booklet written by Chris Humfrey from Wild Action Zoo, Melbourne.
MATCH IT: A fun, simple game of matching pairs. In the format of a classic memory game, this unique memory game will have you reuniting these adorable Aussie animals with their mums and dads.
BEAUTIFULLY DESIGNED: Discover 50 beautifully illustrated cards
EASY TO PLAY: Easy to understand instructions make it possible to start playing with all the family right away
EDUCATIONAL TOO: Includes a full colour booklet with text from Chris Humfrey from Wild Action Zoo, Melbourne
GIFTS: The perfect gift for animal lovers or anyone looking for a beautiful family game

For Ages: 4+ years old
Format: Card or Card Deck
Language: English
Dimensions (cm): 5.1 x 10.2  x 29.6